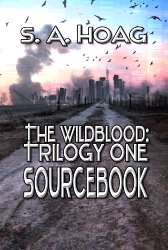 The Wildblood Sourcebook One
A Sourcebook about all things in The Wildblood: Trilogy One - The Vista, Renegades, Bloodlines, AND Backlash: Prequel to The Wildblood. A post-apocalyptic action adventure.
The story -
No one was certain what started the war, the big one. What came next was fueled by rage and fear.
People of The Vista understood their children would be different, growing up in a place that only resembled civilization. A handful kept a dark secret, that a few were something else, something of urban legend. Fighting to survive the harsh elements of Montana, and the feral remnants of humanity, the rumors were forgotten by most.
Welcome to the world of The Wildblood.
Trust is dangerous; ignorance is deadly.
~ ~ ~ ~ ~
Excerpt
Coming Soon
Background
Spoilers!
Biographies
Who is Who
Where?
Notes No One Has Ever Seen But Me
Info new for this Sourcebook
All Those Terms I Made Up, Explained
Teaser for Outliers: Team Two
~ ~ ~ ~ ~
~ ~ ~ ~ ~