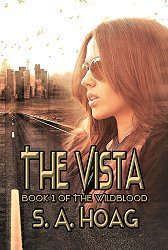 It's not a dystopia, it's not a utopia - it's their home, and they'd do anything to protect it.
The Vista: Book 1 of The Wildblood introduces Team Three - they're young, ambitious, and at the forefront of a movement to discover what is beyond The Vista. They also believe they are genetically enhanced, a practice outlawed long before they were born. Venturing beyond their valley draws the attention of someone dangerous, someone that shares their past and wants to control their future, or destroy them because of what they might be.
~ ~ ~ ~ ~
Excerpt
Shannon didn't like being in the city for any reason. Twice a week, four months a year, she was anyway. It was her job. They might say ghosts weren't real, but most of 'them' had never spent a night in the long dead place. A storm moved in after nightfall, the rain almost ice as it fell from a black sky. No thunder, sparse lightning and that was the worst part of it - the broken, eerie silence between downpours. Sometime after midnight, she gave in and headed for home.
Crossing the Continental Divide, the rain turned to snow, huge white flakes splattering on the windshield, not melting. The road was mostly clear. Static on Shannon's radio was thick, but minutes later, she understood two words in the noise. Code Seven. Active aggressive incident outside the outer perimeter, but active aggressive still. She kicked it into overdrive and came down the mountain full tilt, pushing the car, and pushing her luck on a road known to devour Scouts.
Then the outer marker merely went 'blip' as she passed it. If there was an alert, proximity warnings would have gone off all over Security. Alarms should be sounding in Dispatch, and her car. She stared at the radio for a moment, realizing what she had stumbled in to.
Wargames. The call-out wasn't real.
"Car Ten, radio check. Alert status," she said on the air, dead calm. She'd been a Scout more than three years. Calm was what they did, it was the only way to survive.
The Vista was far enough away for most of the reply to be static. "Alert Six, Car Ten," Dispatch responded. No alert. Things happened when she was on the other side of the divide for half a day. She missed wargames. It was too late to pretend she had known, and Shan went for a timed run. The adrenaline in her system wouldn't let her slow down anyway.
In the dark, a flicker of taillights warned her she wasn't alone. At this time of night and this time of year, it would be someone who knew it was a practice run. As Shan came up behind them, she recognized the car. Team One was a Guardian team from her station, rotated back to her schedule recently. Yesterday. She flashed her high-beams for them to clear the left lane. There was no immediate response.
They were supposed to be in radio-silence too, but hell, no one had bothered to tell her about the wargames. "Move it over, Lt. Hunter," Shan warned on the air. She shared some expletives with the junior officer, knowing who was driving simply by reputation.
Team One did indeed move right. Shannon passed them like they were parked, turning on her emergency lights as she went around the rusted carcass of a semi trailer not even a mile further down the road.
~ ~ ~ ~ ~
The Wildblood Series
A Post-Apocalyptic Action Adventure
No one remembers what started the war, the big one. Civilization stopped, and what came next was fueled by rage and fear.
Twenty years on, a tiny refuge, a place called The Vista, may be one of the last vestiges of humanity. Isolated, guarded, and hiding a dark secret, the people have survived World War Last, and they are content with that. Their children, however, are not. The search for others will send them out into a world they know nothing about, where the line between enemy and ally is blurred.
~ ~ ~ ~ ~